THE PLANT & EQUIPMENT
The plant comprises of a feeding unit, the cleaning unit having combers, dust blowers and de-stoners, the milling unit having NF, SM, Water Jet Polishers, Rotary Sifters, Length-Width graders and the finishing unit having Color Sorters and Final Graders. METAL DETECTION (Magnetic plates & catchers are attached in the production process flow to eliminate ferrous metals)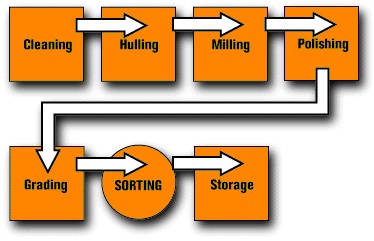 Raw Material Selection
Before a particular lot of rice is purchased, it is subjected to various tests. These include inspection by a team of experienced selectors and experts who test the material for physical parameters like moisture content, field admixture etc. Samples are then checked to determine yield, texture and post cooking characteristics. Raw material is purchased only when it meets the target specifications.
Warehousing
One of the main peculiarities of the Basmati rice is enhancement in its taste and aroma when it is seasoned. RIFFINO has made it part of its policy to sell only seasoned rice for consumption by its customers. This does not apply to supply of Cargo Brown Rice unless the customer has asked RIFFINO to store brown rice for a longer period under a special understanding & commitment. During the period the rice remain in the raw material storage area, it is subjected to regular inspection and fumigation from time-to-time against infestations by organisms and to avoid cross contamination with allergens.
Cleaning
On receiving husked rice (Brown Cargo) processing starts with the cleaning of rice. Foreign material like straws, mud balls, threads, stones, paddy and metal particles are removed from the rice. High performance pre-cleaners and classifiers are used to achieve great accuracy in feeding a purified rice for later processes. This is applicable to all types, Brown, Pre-Steamed, Par-Boiled and White milled.
Milling & Whitening
Rice is gently milled in whitening machines in several passes to ensure efficient removal of bran. Number of passes depends upon the degree of whiteness required. Furthermore, rice is allowed to pass through mist polishers (if silky polish is required) which impart an extremely clean and glossy white appearance to kernels, a distinct advantage over traditional milling methods. For Supplies of Brown Rice, this step is by-passed
Length & Width Grading
RIFFINO performs both thickness and length grading. Through this process broken and shriveled rice is separated from head rice to attain very high percentage of accuracy and required length of rice.
Color Sorting
Discolored grains and chalky kernels are removed to yield Grade – A products. Color sorters have been setup to service the specific needs of the customer. Whether the kernels are processed as brown rice, white rice or par-boiled rice, our installed sorters add maximum value to the final product. All types of contaminants (stones, glass, plastics) and defective grains (peck, red rice, yellow grains, immature, bran, discolors and paddy) are removed by the visible and infrared technologies of the SORTEX Z+ Machine.
PACKING FACILITIES & OPTIONS
In addition to loading in bulk or packing in Jumbo bags, RIFFINO can pack in consumer own pouches & bags. Subject to prevailing regulations in Pakistan & the importing country, these may include:-
1. Poly Pouch
2. Non-Woven Fabric Bags
3. BOPP Laminated Bags
4. PP Bags
5. Cardboard/paper sack
6. Cotton bags 5 to 50 KG
7. Jute bags 5 to 50 KG
RIFFINO has the most modern electronic bagging scales that ensure high degree of accuracy in weighing. It is guaranteed that each and every container and the bags shipped by RIFFINO weigh as per ordered weight and quantity. This equipment is capable of packing in different sizes ranging from 1Kg to 50Kg.